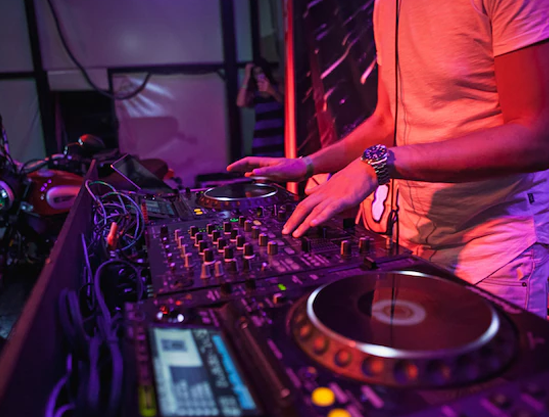 Contrata a la DJ perfecta en Oxnard para tu ocasión perfecta.
Ya sea una boda, un evento corporativo o algo más, definitivamente necesita la
Mejor DJ en Oxnard
. To get that, DJ Andy will help you throw a bash your guests won't soon forget. You can always find him for all local events and venues in the areas of Oxnard, California, where I perform live sets to keep your party going strong. Booking a
DJ latina en Oxnard, Ventura, Los Ángeles y California
for your event just got easier with me and my team. The sound and sound experience are brought to you in the form of a diverse set of DJs. Offering both mainstream and underground beats, my professionals provide experiences for discerning ears and gigs. We are a professional team that provides the best entertainment and music possible.
¿Cuándo puedes contratar a DJ Andy?
Para tu boda perfecta
dj andy
will be the best DJ you will ever have on your special day. Easily connect with him now to make your event a success. He has years of experience and thousands of happy customers. DJ Andy's are about quality, not quantity. You've got your venue; you've picked out flowers and a dress, but what about the music? We understand that a wedding ceremony is one of the most important parts of your big day, and we want to make it as smooth and fun as possible.
Who says a birthday party has to be just for little kids? DJ Andy is familiar with POP latina en Oxnard, Ventura, Los Ángeles y California and is the ultimate kid at heart – always ready to give his all and make sure everyone is having fun. From weddings and corporate events to fashion shows, DJ Andy makes every event one to remember. Our talented musicians can provide the perfect musical score for your birthday party with no script or preparation necessary on your part.
We strive to be the perfect choice for music production, with a team of professional musicians dedicated to creating the perfect musical score for any event. We welcome you to the creative process, where we can make any song into your perfect ceremony soundtrack. With your direction, my team has the ability to produce an unforgettable tune that will have everyone on their feet during your party.
We can perhaps create a chart-topping musical hit which is a must when drinks are in hand. Get your hands on the exquisite beats and make the night memorable with your friends. Do not wait until your friends make arrangements for their party, instead do it yourself and get in touch with dj andy now. Your guests will feel the party coming to life when DJ Andy plays his amazing music, specially curated songs. This function also supports lyric display while playing or in pause mode. We are on your team to produce the perfect musical score for your ravishing cocktail party. It all depends on how far you're willing to go for the music and how many hits you need.
Fiestas Privadas y Eventos
Every party is incomplete without the taste of music, and for that, you must take your heads ahead to DJ Oxnard en Ventura, Los Ángeles y California. From private party functions and nightclub gigs, we implement all features providing you with the best entertainment and music. This experience is reinforced with personal appearances at events and venues, allowing you to be exposed to an even larger audience with all good remarks. While still maintaining our identity as a perfect organizer. We work with you from start to finish, getting full control over the artistic process in providing the best music to your audience. The possibilities are limitless!